Translations : Cary Bartsch
Written for people looking for information with meaning, L'Alpe is the first review devoted to the many cultures and heritages of Alpine Europe. Its ambition is to provide information, language barriers not withstanding. As your guide, L'Alpe looks at the people who, from the meandering Danube to the Rhône, have adapted to an exceptional climate. A cross between a book and a magazine, it draws on the first to provide background documents on a main theme, supported by rigorous analysis, an insistence on quality and the notoriety of renown authors. From the second, it adopts a quarterly rhythm for regular contributions to current debates, rich illustrations, the insatiable curiosity of its journalists and a necessarily didactic approach. Though rigorous in its approach to knowledge, L'Alpe is not a scientific journal. It calls on the contributions of history, geography, archaeology, ethnology, etc. to shed light on the meaning of the traces left by man on the mountain environment. And it is also open to current debates on the future of the Alps and other mountains in the world.
The Monte Verità « hippies »
They danced naked on the hill, wove togas made of unbleached cotton and ate the fruit produced in their gardens. In 1900, in the Tessin Alps, a small group invented the return to Nature and the counterculture. Sixty years before the hippies ! Monte Verità was a sanctuary for alternative thinking, a « spot » for creativity and utopia, and it drew large numbers of artists and intellectuals. A magic mountain waiting to be discovered.
Neuschwanstein : An Alpine (fairy) tale
Louis II dreamed of a fabulous castle on a rocky pinnacle in the Bavarian Alps. A medieval utopia, a royal whim to bring the ancient Germanic legends to life within its walls. A safe haven for a king who loved his dreams more than he loved power…
Baquet has his fun !
Everyone is familiar with the playful attitude of the cellist-actor-humourist, his love of the Alps, skiing and mountain climbing. The images that Maurice Baquet made with the help of Robert Doisneau are ample proof of that. Still, it is a surprise to discover this other series of photos taken in Chamonix by Philippe Gaussot, at the time a journalist at the Dauphiné Libéré newspaper, and never before published.
The density of mountains
The journey of Abraham Poincheval is an unusual artistic undertaking. Pushing or pulling his girovague, a strange metallic vehicle cum living quarters, he travelled 300 kilometres between Digne (France) and Caraglio (Italy) in a four-part voyage in as many seasons. A feat combining effort, solitude, writing, meetings and discoveries. Once back, the artist published his travel log. Excerpts.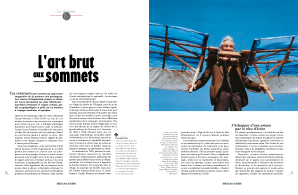 Outsider art at the summit
These unusual artists used the mountains to nourish their imagination. A source of inspiration to stimulate their craziest inventions, including airborne machines and flying objects, an outdoor encyclopaedic garden and unusual, light-hearted hikes with the herds to the upper pastures.
Portfolio : Straw men, wild men captured on paper
Charles Fréger photographed wild men. Highly colourful people who celebrate the winter solstice or the return of spring during festivities throughout Europe. But are the disguises in fact a uniform like any other ?
Alpine high seas
Edmond de Palézieux was a painter, sailor and lover of Lake Geneva. He painted lake scenes and landscapes from beginning to end of his career. At the Musée du Léman, in Nyon, a wonderful exhibit looks back at the painter's fascination with water and boats.
Mountain fashion
Two centuries of history ranging from crinoline to high-tech breathing fabrics. That is the topic of the exhibit at La Châtaignière in Yvoire, where it becomes clear that clothes designers have always been inspired by Alpine sports, both summer and winter, to the point of making ski pants, down jackets and moon boots eternally fashionable.
The archives of human diversity
The Ethnographic museum in Geneva has turned over a new leaf. The prestigious, century-old centre, an important site of study on human societies, struggled for years in cramped quarters, but can now display the wealth of its collections that bear witness to the city's very worldly outlook. A new building, new arrangements on the historic site, new shows and new exhibits that will all be inaugurated on 31 October 2014.
(pour toute question plus personnelle nécessitant une réponse de la rédaction, merci de cliquer plutôt sur le lien "Contacts" situé dans le bandeau bleu en haut de page).